Product Description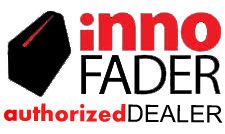 Description of the Innofader PNP from the official Innofader website:
The InnoFader PNP is the updated version of the original InnoFader universal VCA crossfader. Improvements include an extra knob, eliminating the need for adapter boards; an on-board wiring tester, reversible 3 and 4 pin VCA cables, the inclusion of a Denon / Rane Empath cable, added insulator card on the bottom, mounting brackets for the DJM-800 and DJM-900 and 2 vinyl marking stickers!
PLEASE NOTE: Unlike the original InnoFader, the InnoFader PNP no longer supports Ecler mixers. For Ecler support, please purchase the InnoFader Pro!
Please note, RIOTSOUND is an AUTHORIZED INNOFADER DEALER. Every INNOFADER product we sell comes factory sealed and includes an original factory warranty. With nearly a decade of pro-audio retail experience, at RIOTSOUND we offer you the expertise, commitment and attentive customer service to make sure you will be 100% satisfied with your purchase, each and every time. Please shop with confidence and peace of mind.
Shop with an AUTHORIZED INNOFADER DEALER and receive a 1 year warranty on your item: 
Innofader's manufacturer, Audio Innovate, warranties the Innofader against manufacturing defects for either 1 year after the date of purchase or 90 days after warranty repair is made, whichever is later. This warranty does not cover minor visual defects such as scratches and paint wear or defects caused by uses other than the intended use. In addition, the warranty does not cover damage to the unit due to mishandling by the user or technicians not specifically authorized by Audio Innovate. Audio Innovate can only warranty the Innofader when installed in mixers approved / compatible for installation. 
For a list of mixers and controllers compatible with ALL Innofader products, please CLICK HERE