Product Description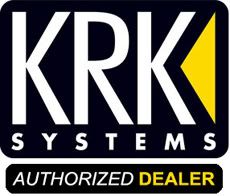 Description of the 10-3 G3 from the official KRK website:
KRK's ROKIT 10-3 G3 (Generation 3) powered studio monitor offers professional performance and accuracy for recording, mixing, mastering and playback. The system consists of a 1" soft dome tweeter, a 4" midrange driver and 10" glass-Aramid composite woofer. It delivers high frequencies up to 30kHz, vocal clarity and extended bass response. The proprietary tri-amped, class A/B amplifier grants SPL up to 110dB. The ROKIT waveguide is designed to ensure detailed imaging in the listening position. The front-firing bass port reduces boundary coupling, the rotatable midrange module allows flexible positioning in the room while the engineered surface reduces diffraction distortion. Multiple input connections ensure the ROKIT 10-3 G3 will easily integrate in any system configuration. Features updated voicing for more punch and control, and overall a more balanced sound.
The largest Monitor of the ROKIT Family, the KRK ROKIT 10-3 G3 will deliver every detail of performance thru its ample headroom and tight bass tuning.
Please note, RIOTSOUND is an AUTHORIZED KRK DEALER as well as a direct partner of KRK USA. Every KRK product we sell comes factory sealed and includes an original factory warranty. With nearly a decade of pro-audio retail experience, at RIOTSOUND we offer you the expertise, commitment and attentive customer service to make sure you will be 100% satisfied with your purchase, each and every time. Please shop with confidence and peace of mind.
ROKIT 10-3 G3 FEATURES:
True 3-Way Design enabling the most important part of the frequency spectrum to be reproduced by a separate midrange driver, resulting in an incredibly neutral midrange response.
Axis Control – The monitors can be placed and positioned vertically and horizontally, enabled by the rotatable MF/HF Baffle.
Mid-Field – The Rokit Powered 10-3 is a mid-field monitor, with the optimal operating distance of 1m-4m depending on preference, room size, geometry, orientation, and configuration.
Curved Baffle virtually eliminates diffraction distortion
Front-firing Port is shape optimized to reduce turbulence and reduce boundary coupling.
Tweeter Waveguide design provides amazing detail and imaging by optimizing directivity and phase response.
1″ Neodymium Soft Dome Tweeter This tweeter design utilizes a silk dome for detailed high frequency reproduction.
Ferro fluid Damping / Cooling The properties of ferro-fluid are used to control distortion and heat dissipation of the tweeter.
Glass Aramid Composite creates very rigid Woofer and Midrange cones for excellent transient response and accurate vocal reproduction.
KRK High Efficiency Tri-Amp a triple amplification system provides discrete low-distortion power for each driver. While our active three-way crossover systems provide smooth and accurate frequency response.
Thermal and Overload / Clip Protection are integral to the design enhancing the safety and ensuring long life of the product..
Volume Control on rear of unit allows a high resolution gain range from -30 dB to +6 dB.
Total Connectivity – The Rokit Powered 10-3 is fitted with dedicated balanced XLR, and 1/4″ Line inputs and unbalanced RCA inputs.
ROKIT 10-3 G3 TECHNICAL SPECIFICATIONS:
Configuration:

3-Way

System type:

Active Studio Monitor

Low-Frequency:

10″ Aramid Glass Composite woofer

Mid-Frequency:

4″ Aramid Glass Composite Midrange

High-Frequency:

1″ soft dome tweeter

Frequency Response:

31Hz – 20kHz

Max Peak SPL:

113 dB

Amplifier Class:

Class A-B

Power Output:

140W

High Frequency:

30W

Mid-Frequency:

30W

Low Frequency:

80W

Input Impedance (Ohms):

10 K Ohm balanced

HF Level Adjust:

-2dB, -1dB, 0, +1dB

System Volume:

(-30dB – +6dB)

Indicators:

Power

Input Connectors:

Unbalanced RCA, Balanced 1/4″ TRS, Balanced XLR

AC Power Input:

Selectable 110V-120V / 220V-240V (50Hz – 60Hz) or 100V (50Hz – 60 Hz)

Enclosure Construction:

MDF

Finish:

Black vinyl wrap

Port Configuration:

Front firing slot port

Dimensions (H x W x D):

21.5″ (545mm) x 12.8″ (325mm) x 14.4″ (365mm)

Weight:

46 Lbs. (21 Kg.)