Product Description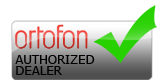 Description of the 2M Red from the official Ortofon website:
The 2M Series is developed in conjunction with the Danish Industrial designer Møller Jensen Design – the same designer who designed the award winning MC Jubilee and Kontrapunkt series. Inspired by the facets of a diamond, whose contours gracefully trace the grooves on a record's surface, the 2M's handsome elegance establishes a great combination of form and functionality.
The name 2M was selected from among several ideas. We wanted a modern name that would be easy to pronounce and remember, and therefore an alphanumerical name was chosen. 2M means MM, which is the abbreviation for moving magnet.
Of course the 2M isn't just another pretty face. It has been engineered to the highest standards and is congruent with Ortofon's unrelenting commitment to providing the most precise and accurate reproduction possible without coloration.
Each of the 2M Series cartridges has its own individual sonic expression, and all five models together represent the ensemble of five classic variations:
2M Red is an all-purpose cartridge that delivers open, dynamic sound with a slight touch of warmth
The 2M series of cartridges features Ortofon's trademark split pole pins, an invention that enables moving magnet cartridges to have a flat frequency response, as with a moving coil cartridge. Split pole pins were invented by Ortofon, and were originally presented in the 500 series and OM Super series.
We have optimized the design for ease of mounting the cartridge, and the weight and size to fit the most common turntables on the market today. The 2M Series provides excellent compatibility when used in an assortment of playback systems and with a wide variety of phono preamps.
The 2M headshell is a practical and elegant solution for our customers who wish direct and easy mounting and replacement on their S-shaped tonearm. The combination of 2M Headshell and 2M Series cartridge adds unique distinction to the turntable!
Please note, we are an AUTHORIZED ORTOFON DEALER as well as a direct partner of ORTOFON USA. Every ORTOFON product we sell comes with ORTOFON'S standard one year factory warranty. With nearly a decade of pro-audio retail experience, we offer you the expertise, commitment and attentive customer service to make sure you will be 100% satisfied with your purchase, each and every time. Please shop with confidence and peace of mind.
Shop with an AUTHORIZED ORTOFON DEALER and receive a 1 year warranty on your item:
All of Ortofon's cartridges are backed by a 1-year guarantee against defects in workmanship and materials when purchased from an authorized Ortofon dealer. Should your item malfunction as a result of faulty materials or workmanship, Ortofon will repair the defect(s) or replace the merchandise. Ortofon's warranty does not cover expendable items or used/demo items. 
2M RED INCLUDED ACCESSORIES:
1 x Stylus brush
1 x Screwdriver
2 x Screw M2.5 x 5
2 x Screw M2.5 x 7
2M RED FEATURES:
Universal mount fitting a wide range of S-shaped tonearms.
Weight with a 2M cartridge pre-mounted 20 g.
The headshell body is manufactured from a special compound used for Medical industry, ensures high rigidity while reducing unwanted vibration
Elegant hi-tech design
Length 52mm. Headshell with a 2M cartridge pre-mounted provides correct Baerwald alignment with the Ortofon TA-110/ TA-210 tonearms, likewise with the major part of tonearms with universal mount
2M RED TECHNICAL SPECIFICATIONS: