Product Description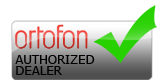 Description of the Concorde MKII Digital from the official Ortofon website:
Since the launch of the original Concorde cartridges more than 25 years ago, DJs have embraced the convenience, sound quality, and industrial design of the Concorde.  With the launch of the Concorde MKII, Ortofon has listened to the demands of vinyl DJs of all types to develop a superior cartridge series with an unprecedented level of durability, groove holding, and sound quality.  The new Concorde, which is redesigned from the ground-up, features a more robust stylus tip with larger cut-out, as well as a replaceable textured grip and handle.  The Concorde Digital cartridge features increased output and is optimized for timecode vinyl (DVS) applications.  Easy connectivity to the tonearm makes setup quick and easy in any performance scenario.
Please note, RIOTSOUND is an AUTHORIZED ORTOFON DEALER as well as a direct partner of ORTOFON USA. Every ORTOFON product we sell comes factory sealed and includes an original factory warranty. With nearly a decade of pro-audio retail experience, at RIOTSOUND we offer you the expertise, commitment and attentive customer service to make sure you will be 100% satisfied with your purchase, each and every time. Please shop with confidence and peace of mind.
Shop with an AUTHORIZED ORTOFON DEALER and receive a 1 year warranty on your item:
All of Ortofon's cartridges are backed by a 1-year guarantee against defects in workmanship and materials when purchased from an authorized Ortofon dealer. Should your item malfunction as a result of faulty materials or workmanship, Ortofon will repair the defect(s) or replace the merchandise. Ortofon's warranty does not cover expendable items or used/demo items.
ORTOFON CONCORDE MKII DIGITAL FEATURES:  
Fully redesigned for better durability, groove holding, and sound quality
More robust stylus tip with larger cut-out
Wider grip area for easier handling
Replaceable textured grip and tapered handle
Quick and convenient tonearm connection
Attractive split housing and one-piece metal tonearm fitting
Stylus seats tightly onto cartridge body with tactile feedback
Increased output and optimization for timecode vinyl (DVS) applications
ORTOFON CONCORDE MKII DIGITAL TECHNICAL SPECIFICATIONS: 
Output voltage at 1,000 Hz, 5 cm/sec: 

10mV

Channel balance at 1 kHz: 

1 dB

Channel separation at 1kHz: 

22 dB

Channel separation at 15kHz: 

15 dB

Frequency range at -3 dB: 

20 – 18,000 Hz

Tracking ability at 315 Hz at recommended tracking force: 

100 μm

Compliance, dynamic lateral: 

14 μm/mN

Stylus type: 

Spherical, R 18 μm

Tracking force range: 

3 – 5g

Tracking force recommended: 

4g

Cartridge weight : 

18.5g

Replacement stylus unit: 

Digital