Product Description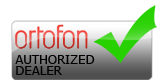 Description of the Nightclub S from the official Ortofon website:
A spherical diamond and a customized design provide the basis for the cartridge's undeniable supremacy. The stylus remains in the groove during the scratching and back-cueing, making it unfailingly reliable – even when giving a night-long performance.
Please note, we are an AUTHORIZED ORTOFON DEALER as well as a direct partner of ORTOFON USA. Every ORTOFON product we sell comes with ORTOFON'S standard one year factory warranty. With nearly a decade of pro-audio retail experience, we offer you the expertise, commitment and attentive customer service to make sure you will be 100% satisfied with your purchase, each and every time. Please shop with confidence and peace of mind.
TECHNICAL SPECIFICATIONS: 
Output voltage at 1000 Hz, 5cm/sec:  6 mV 
Channel balance at 1 kHz:  1.5 dB 
Channel separation at 1 kHz:  23 dB 
Channel separation at 15 kHz:  15 dB 
Frequency range at – 3dB:  20-22,000 Hz 
Frequency response:  20-18,000 Hz + 1.5dB  
Tracking ability at 315Hz at recommended tracking force:  80 µm 
Compliance, dynamic, lateral:  7 µm/mN  
Stylus type:  Spherical
Stylus tip radius:  R 18µm 
Tracking force range:  2.0-5.0 g (20-50 mN) 
Tracking force, recommended:  3.0 g (30 mN) 
Tracking angle:  20° 
Internal impedance, DC resistance:  750 Ohm 
Internal inductance:  450 mH 
Recommended load resistance:  47 kOhm 
Recommended load capacitance:  200-600 pF   
Shop with an AUTHORIZED ORTOFON DEALER and receive a 1 year warranty on your item:
All of Ortofon's cartridges are backed by a 1-year guarantee against defects in workmanship and materials when purchased from an authorized Ortofon dealer. Should your item malfunction as a result of faulty materials or workmanship, Ortofon will repair the defect(s) or replace the merchandise. Ortofon's warranty does not cover expendable items or used/demo items.