Product Description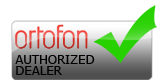 Description of the OM-1S from the official Ortofon website:
Our Optimum Match (OM) cartridges match most tonearms perfectly. An OM cartridge from Ortofon makes it possible to upgrade the performance of an entire music system very easily by upgrading the stylus. We offer a wide range of replacement styli for OM cartridges.
With the OM cartridge you instantly hear the improvement: music you've heard many times takes on new dimensions.
The OM-1S is a magnetic cartridge (MM) with a Spherical shaped stylus that provides balanced and distortion-free playback for general purpose applications.
If your tonearm has a standard headshell or a cartridge mount, then step up to optimal sound reproduction with OM's. A glance at anyone of these cartridges will reveal Ortofon's answer to perfect tonearm matching. Ingeniously tucked into the top of the mounting bracket is a tiny, removable weight-plate.
If your tonearm is an standard tonearm, just leave the weight-plate.
If your tonearm is one of the low mass types, then simply remove the weight. The mass of your OM cartridge is now a mere 2.5g
Please note, RIOTSOUND is an AUTHORIZED ORTOFON DEALER as well as a direct partner of ORTOFON USA. Every ORTOFON product we sell comes factory sealed and includes an original factory warranty. With nearly a decade of pro-audio retail experience, at RIOTSOUND we offer you the expertise, commitment and attentive customer service to make sure you will be 100% satisfied with your purchase, each and every time. Please shop with confidence and peace of mind.
Shop with an AUTHORIZED ORTOFON DEALER and receive a 1 year warranty on your item:
All of Ortofon's cartridges are backed by a 1-year guarantee against defects in workmanship and materials when purchased from an authorized Ortofon dealer. Should your item malfunction as a result of faulty materials or workmanship, Ortofon will repair the defect(s) or replace the merchandise. Ortofon's warranty does not cover expendable items or used/demo items. 
TECHNICAL SPECIFICATIONS: 
Output voltage at 1000 Hz, 5cm/sec.: 

4.5 mV

Channel balance at 1 kHz: 

2 dB

Channel separation at 1 kHz: 

20 dB

Channel separation at 15 kHz: 

12 dB

Frequency range at – 3dB: 

20-20.000 Hz

Frequency response: 

20-22,000 Hz

Tracking ability at 315Hz at recommended tracking force *): 

60 µm

Compliance, dynamic, lateral: 

20 µm/mN

Stylus type: 

Spherical

Stylus tip radius: 

R 18 µm

Tracking force range: 

1.5-2.0 g (15-20 mN)

Tracking force, recommended:

 1.75 g (17,5 mN)

Tracking angle: 

20°

Internal impedance, DC resistance:

 750 Ohm

Internal inductance: 

450 mH

Recommended load resistance: 

47 kOhm

Recommended load capacitance: 

200-500 pF

Cartridge colour, body/stylus: 

Black/Black

Cartridge weight: 

5 g

Replacement stylus unit:

 Stylus 1S