Product Description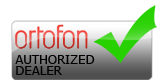 Description of the SUPER OM 10 from the official Ortofon website:
The Super OM cartridges have been designed on the basis of our OM lightweight system with three major improvements:
By means of computer simulations it has been possible to define the natural pivot point of the system with unprecedented accuracy while achieving an optimum oscillation balance. The result: improved linearity, higher channel separation and reduced distortion.
Additionally, a new technique was developed and applied: slit less than 1 mm dia. hollow pole pins, thus significantly reducing eddy current losses caused by magnetic hysteresis. This sophisticated technology extends the frequency range and improves phase linearity.
Thirdly OM Super cartridge body is manufactured from a Noryl (plastic & glass compound) which ensures high rigidity, and freedom from resonances.
All Super OM models have the same body, construction and magnetic circurity. The only difference is the interchangeable stylus unit.
Please note, RIOTSOUND is an AUTHORIZED ORTOFON DEALER as well as a direct partner of ORTOFON USA. Every ORTOFON product we sell comes factory sealed and includes an original factory warranty. With nearly a decade of pro-audio retail experience, at RIOTSOUND we offer you the expertise, commitment and attentive customer service to make sure you will be 100% satisfied with your purchase, each and every time. Please shop with confidence and peace of mind.
Shop with an AUTHORIZED ORTOFON DEALER and receive a 1 year warranty on your item:
All of Ortofon's cartridges are backed by a 1-year guarantee against defects in workmanship and materials when purchased from an authorized Ortofon dealer. Should your item malfunction as a result of faulty materials or workmanship, Ortofon will repair the defect(s) or replace the merchandise. Ortofon's warranty does not cover expendable items or used/demo items. 
ORTOFON SUPER OM 10 TECHNICAL SPECIFICATIONS: 
Technical data: 

OM Super 10 

Output voltage at 1000 Hz, 5cm/sec.: 

> 4 mV 

Channel balance at 1 kHz: 

< 1.5 dB

Channel separation at 1 kHz:

> 22 dB

Frequency response: 

20-20,000Hz +3/-1 dB

Frequency range: 

20-24,000Hz

Tracking ability (315Hz, lateral): 

> 70 µm

Compliance, dynamic (lateral): 

25 µm/mN

Stylus type: 

Elliptical

Stylus tip radius: 

r/R 8/18 µm

Tracking force range: 

1.25-1.75 g

Recommended tracking force: 

1.5 g

Tracking angle (vertical): 

20°

Internal impedance, DC resistance: 

1 kOhm

Internal inductance: 

580 mH

Recommended load resistance: 

47 kOhm

Recommended load capacitance: 

200 – 500 pF

Cartridge weight including weight plate:

 5 g

Cartridge weight without weight plate:

 2.5 g