Product Description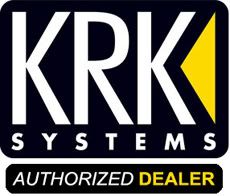 Description of the 8 G4 from the official KRK website:
The new 8" KRK ROKIT RP8 Generation 4 ("G4") bi-amp professional monitor takes music and sound creativity to a whole new industry-level. DSP-driven room tuning with 25 visual Graphic EQ settings on an LCD, combined with the included KRK App help minimize and correct problems in your acoustic environment. Matching drivers made with Kevlar® ensures the same sonic integrity on every single frequency, minimizes listening-fatigue, and offers an incredibly balanced listening experience. A scientifically designed high-quality speaker enclosure and newly-designed front-firing port offer exceptional low-end extension, punch and flexible room-positioning. High density Iso-foam pads decouple the speaker from the surface for improved clarity while fluid mechanics fully tuned to the entire system result in a deep and dynamic listening "sweet-spot" with incredible imaging and 3D soundstage. A new custom designed efficient class D power amp reduces operating temperatures to retain better audio integrity while a built-in Brickwall limiter automatically engages at maximum amp-level to maintain a balanced sound, protect the system, and offer better and wider dynamics.Although truly affordable, price isn't even in the ROKIT conversation—professionals choose ROKITs for their time-tested and reliable results. The new ROKIT Generation 4 Line actually is ROKIT Science.
Please note, RIOTSOUND is an OFFICIAL KRK SYSTEMS DEALER as well as a direct partner of KRK SYSTEMS USA. Every KRK product we sell comes factory sealed and includes an original factory warranty. With nearly a decade of pro-audio retail experience, at RIOTSOUND we offer you the expertise, commitment and attentive customer service to make sure you will be 100% satisfied with your purchase, each and every time. Please shop with confidence and peace of mind.
Key Features:
Professional grade 8" (Bi-amp) studio monitor designed and engineered in the USA
8" Matching Woofer and 1" Tweeter made with Kevlar®
Built-in efficient Class D power amp
Proprietary speaker drivers built in-house from the ground up
Onboard LCD visual DSP-driven EQ
25 visual Graphic EQ settings for different environments
KRK App with Room Correction Tools
Scientifically designed high-quality/low resonance speaker enclosure
High density acoustic Iso-foam pads for improved clarity
Newly designed Brickwall Limiter automatically engages at maximum amp level
Wide, deep and dynamic listening "sweet-spot" with incredible imaging
3D soundstage creates incredible realism and depth in your mix (width, depth and height)
Optimized high frequency wave guide
Optional replacement faceplates with protective metal grilles
Incredibly versatile speaker system—great for creating music in different environments
Great for all functions of music creation from production to mixing to mastering
Front-firing port with optimized low frequency tuning alignment for the best possible transient response and extension
Designed and built by a "monitor" company with over 30 years of proven success