Product Description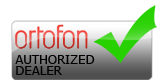 Description of the Digitrack from the official Ortofon website:
The DigiTrack is the perfect marriage of easy and function. You can now manipulate MP3's with the style and feel of a turntablist and the tradition of a turntable.
The DigiTrack responds to the generation of turntable DJs who make extensive use of timecoded vinyl applications, such as Serato (TM) and FinalScratch (TM). With DigiTrack's low wear design and tailored frequency response increase the lifespan of timecoded vinyl records, and provides high quality sound reproduction for playing conventional vinyl records as well.
DigiTrack also features excellent groove-handling capabilities for scratch and mix performance, as well as increased output voltage for improved TCV performance and better sound quality from your mixer's phono preamps
Please note, we are an AUTHORIZED ORTOFON DEALER as well as a direct partner of ORTOFON USA. Every ORTOFON product we sell comes with ORTOFON'S standard one year factory warranty. With nearly a decade of pro-audio retail experience, we offer you the expertise, commitment and attentive customer service to make sure you will be 100% satisfied with your purchase, each and every time. Please shop with confidence and peace of mind.
TECHNICAL SPECIFICATIONS: 
Output voltage at 1000 Hz, 5cm/sec:  8 mV 
Channel balance at 1 kHz:  1.5 dB 
Channel separation at 1 kHz:  22 dB 
Channel separation at 15 kHz:  15 dB 
Frequency range at – 3dB:  20-20,000 Hz 
Frequency response:  20-18,000 Hz – 2dB / -2dB  
Tracking ability at 315Hz at recommended tracking force:  90 µm 
Compliance, dynamic, lateral:  12 µm/mN 
Stylus type:  Spherical 
Stylus tip radius:  –
Tracking force range:  2-4 g (20-40 mN) 
Tracking force, recommended:  3.0 g (30 mN) 
Tracking angle:  –
Internal impedance, DC resistance:  – 
Internal inductance:  – 
Recommended load resistance:  – 
Recommended load capacitance:  –   
Shop with an AUTHORIZED ORTOFON DEALER and receive a 1 year warranty on your item:
All of Ortofon's cartridges are backed by a 1-year guarantee against defects in workmanship and materials when purchased from an authorized Ortofon dealer. Should your item malfunction as a result of faulty materials or workmanship, Ortofon will repair the defect(s) or replace the merchandise. Ortofon's warranty does not cover expendable items or used/demo items.