Product Description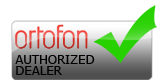 Description of the OM Omega from the official Ortofon website:
Offering upgraded sound quality in a cost effective package, Omega cartridges are perfect for a variety of applications including attaining true high fidelity sound for USB as well as most conventional turntables. The Ortofon Omega fits any standard 1/2″ tonearm mount, standard on most turntables (including most USB turntables). Ortofon turntable cartridges are renowned around the world for their sound quality, robust construction and "freight train" trackability.
Please note, RIOTSOUND is an AUTHORIZED ORTOFON DEALER as well as a direct partner of ORTOFON USA. Every ORTOFON product we sell comes factory sealed and includes an original factory warranty. With nearly a decade of pro-audio retail experience, at RIOTSOUND we offer you the expertise, commitment and attentive customer service to make sure you will be 100% satisfied with your purchase, each and every time. Please shop with confidence and peace of mind.

Shop with an AUTHORIZED ORTOFON DEALER and receive a 1 year warranty on your item:
All of Ortofon's cartridges are backed by a 1-year guarantee against defects in workmanship and materials when purchased from an authorized Ortofon dealer. Should your item malfunction as a result of faulty materials or workmanship, Ortofon will repair the defect(s) or replace the merchandise. Ortofon's warranty does not cover expendable items or used/demo items.